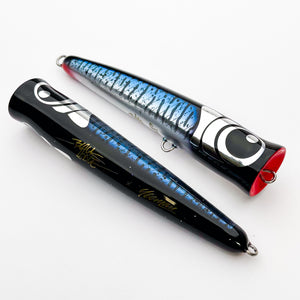 LIMITED EDITION SPANISH MACKEREL RELEASE - ONCE THEY'RE GONE, THEY'RE GONE!

95g x 190mm - Cup Face 38mm x 35mm
Hook size - 4/0 Trebles or 5/0 belly treble and 7/0 Shout Kudako Tail
The Flare is a slim style popper designed with a large flared cup that grips the water in rough conditions and keeps the lure straight on the cast like the feathers of an arrow.
Perfect for the reef, GTs, tuna, kingys and land based situations where poppers can have a tendency to pull from the surface of the water.
Action is a bubble trail pop while the lure shimmys subsurface. Low rod angle will get a loud popping sound and more subsurface turbulence whereas a higher rod angle will impart more spray and more water movement on the surface.  
All Black Ledge lures are hand crafted from specially selected timber and coated with a super thick epoxy resin shell.  Because of this, no two black ledge lures will ever be 100% identical.