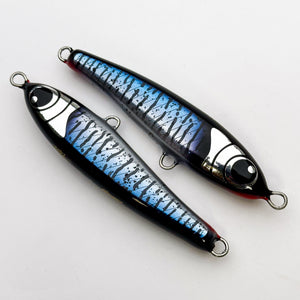 LIMITED EDITION SPANISH MACKEREL RELEASE - ONCE THEY'RE GONE, THEY'RE GONE!
Slow sinking 35g x 120mm
Long sweeps produce sub-surface tail thudding and swimming action. 
Wounded, rolling walk the dog can be done easily with short jerks. 
Straight wind produces erratic swimming action.
Sinks slowly, with wobble and flash on the pause. 
Swims a pair of 1/0 trebles.
Timber construction with insanely thick epoxy shell.
35g Size is perfect for spangled emperor, coral trout, GTs on the flats, bait balling tuna etc.
The Peanut model was designed as a lure that can be cast a mile and catch fish with any rod work, even by a total a novice. Its inbuilt action means you really can't retrieve it wrong.
Please note - Australian orders will have 10% GST added at checkout.