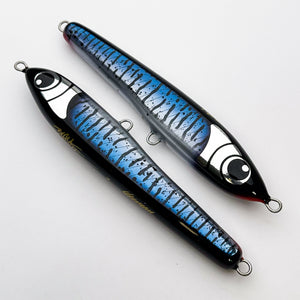 PLEASE NOTE, ONLY COLOURS LISTED IN THE DROP DOWN MENU ARE IN STOCK
 Tail weighted floating - 220mm x 100g 
Long sweeps produce a wide and aggressive S kicking action and short sweeps produce a splashy side to side kicking glide. 
Perfect for GTs, tuna and Kingfish. This lure stays up on the surface and creates a big commotion that gets nailed! 
Swims a pair of 4/0 Trebles.
Timber construction with insanely thick epoxy shell. 
Please note - Australian orders will have 10% GST added at checkout.