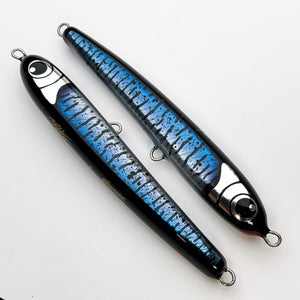 LIMITED EDITION SPANISH MACKEREL RELEASE - ONCE THEY'RE GONE, THEY'RE GONE!
Floating 80g x 215mm 

Hook size - 4/0 Trebles or 9/0 BKK Lone Diablo singles
Long sweeps with big pauses make for a big bubble trails and Z pattern erratic slides.
Short sweeps allow for a faster action with lots of splashes.
Straight wind will swim subsurface with shimmy and tail kicks.
Fast jerks of the rod and constant wind with get it darting both above and below the surface.
This tune of the 80g Arise is thicker and has more buoyancy. It takes larger treble hooks and has a bigger bubble trail with a Z slide, often kicking out to the left and right at the end of a dive for a very erratic retrieve which is often the key to getting a bite!
The Arise concept has a heavy tail weighting as it keeps a less buoyant part of the lure available for a fish to grab and has the inertia to help resist the pressure wave of the fish trying to eat it, ultimately converting more hits into hookups.
Timber construction with insanely thick epoxy shell.
Please note - Australian orders will have 10% GST added at checkout.